Concert in Keith - May 2005
Maurice Elkin helped arrange a concert in his home town of Keith, in the South East of South Australia. His organisational skills came to the fore, and the day was a huge success. P.E.A.K (Promoting Entertainment & Arts Keith) were a great help too, and the Magors Bus Service provided comfortable travel on the coach which ferried us there and back. Funding through Arts SA allowed us to perform under the banner of P.E.A.K.
The Goolwa Concert Band performed a variety of tunes, and were joined by 8 local youth from Keith on various instruments. A guest soloist John Stewart joined in for a number of songs, with his well rounded, full bodied vocals!
Paddleboat Jazz, the Flute Ensemble, Waterport Quartet, and the Junior Band, all took their place at various times during the afternoon, to present items of their own to the appreciative audience.
In memoriam: Ron Turner 1922 - 2001
The band suffered the loss of its Honorary Musical Director, inaugural Life Member and prime mover with the death of Ron Turner. Ron was born in Pt Augusta in 1922. Ron played with a number of bands in Adelaide, including Henley & Grange Band, before moving to Mt Gambier where he established a business. He was Musical Director of Mt Gambier band for many years until he retired to Goolwa in 1982.
Ron became Musical Director of the Hahndorf Band before taking up that position with the Goolwa Band, then a brass band. He instigated the move to a concert band, arranging music to suit the instruments available. He taught himself to use music software on his computer to speed up the process. During the last few years he was unable to continue as musical director due to ill health. However, music was still important to him and he took up the saxophone, attending band rehearsals as often as his health would allow. He was always available to help out answering any queries and arranging music. Our sympathy goes to his family. He is sadly missed.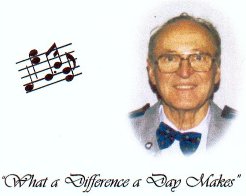 Keith turns 80! - May 2001
Our musical director Keith Pope recently turned 80 - and we celebrated by presenting him with an OBE award (Old Bastard of Eighty) at a supper party after practice.

Band members celebrating with Keith


Musical Director Keith (the birthday boy), his wife Val, and RonTurner, Consulting Musical Director


Assistant Musical Director John Duffield advising Keith on how to cut the multicoloured cake
Jack Bennett receives Award of Merit from Concert Band Association - September 2000
Our oldest member, Jack Bennett, received an Award of Merit from the Concert Band Association of South Australia at our September Annual General Meeting. Jack was nominated by the Goolwa Concert Band committee for attending practice so regularly despite many health set backs including hip replacement, heart surgery, and treatment for cancer. Jack is a great role model for all of us and is always willing to help the younger players. He plays alto and tenor sax in the band.
Peter Hansen receives life membership - September 2000
Peter Hansen, who is one of the original members of the band, was given life membership on 12th September 2000 for his longstanding support, membership, and significant contributions to the band. Peter plays a trombone and bass guitar in the band, and always has a joke to share with the rest of us!
Ron Turner receives life membership - September 1998
Ron Turner has been one of the driving forces of this band from its inception in the 1980s to its change to a concert band in the late 90s, when he worked long hours to arrange our existing music for concert band instruments. Ron was the Musical Director of the band for a long time until health reasons forced him to hand over to current MD Keith Pope, but he remains on the committee and still plays in the band. In recognition of Ron's contributions to the band, he was presented with the inaugural life membership award on the 22nd September 1998.
As well as being Musical Director, Ron used to play trumpet in the band. When he became unable to continue with the trumpet, he took up saxophone, and in his late 70s is an inspiration to all of us.